Our Proven Track Record Speaks for Itself:
Allay Consulting
Canndescent
Dosist
Flow Kana
FlowerHire
Flowhub
Greenbits
Heavy Hitters
Herbl
Kikoko
Kush Gardens
Libra Shop
Simplifya
The Clear
Treez
Trym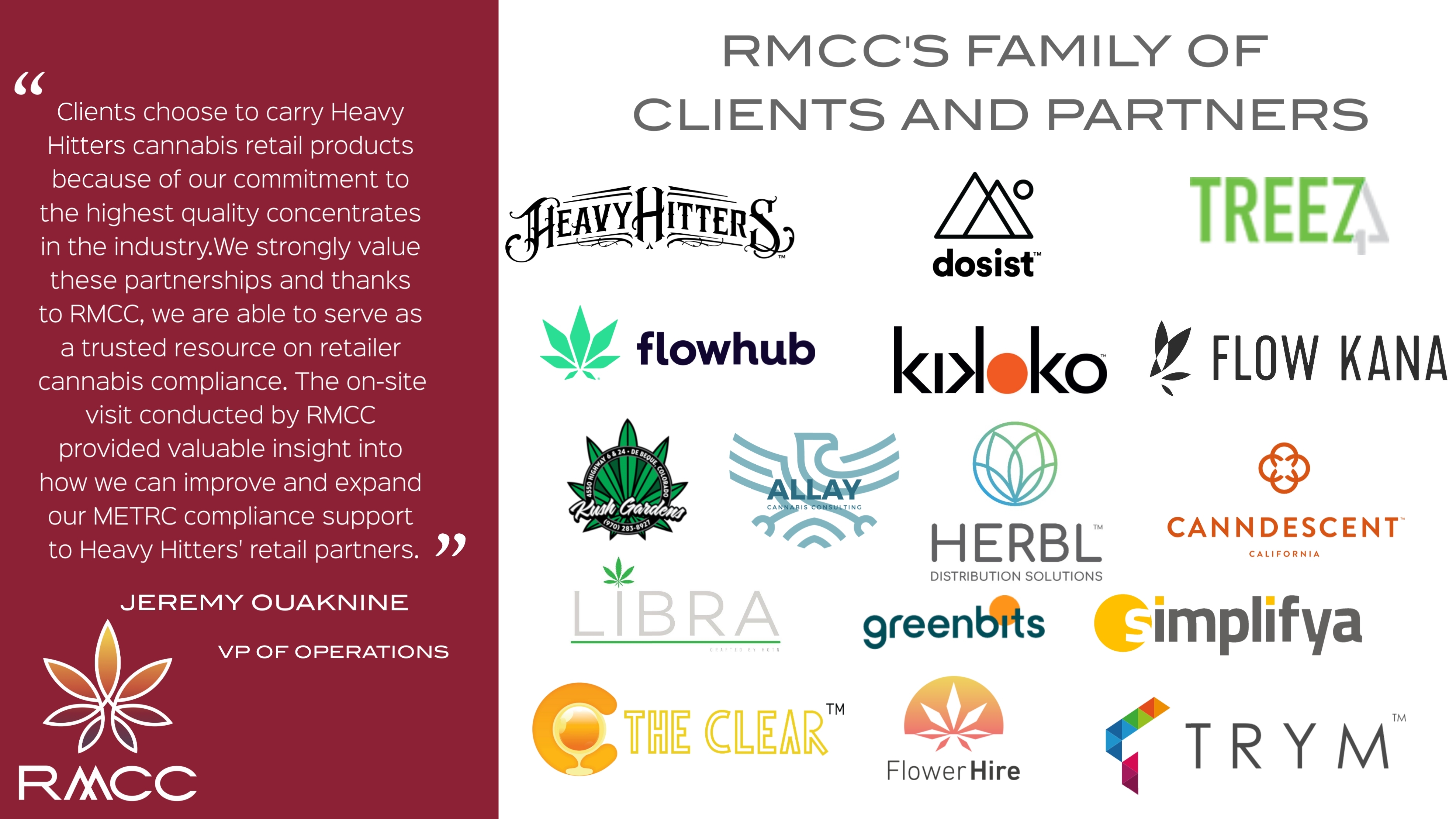 Clients have told us that our expert guidance with their unique operations could not have reached their level of success without us. 
During an exclusive Hot Seat Coaching session you will be provided one-on-one coaching and mentoring from our RMCC's experts with a proven track record of improving our client's operational efficiencies with learning how we "built the farm". 
Because that's really what the hot seat is all about.
You'll be given the opportunity to learn exactly how RMCC runs a complaint cannabis operation with strategic methods you can apply to your operation immediately. 
Those that engage with RMCC for our expert guidance realize up to a $10,000 cost savings per employee.
That's because before your session, you'll outline your top 3-5 trouble spots and share them with us. 
You're putting RMCC in the hot seat and you'll get secrets we don't typically share with large groups. 
We will use our 30 years of collective experience to talk with you and together come up with a plan for you to tackle those trouble spots. 
Your hot seat session will be recorded and made available to you exclusively so you don't lose our insights and guidance.
RMCC is so excited to offer this to our Cannabis Community.
If you're dedicated to improving your operations compliance knowledge and increased profits, secure a hot seat now and we'll see you soon!
Thanks for submitting your information! Please continue with the checkout process.
Frequently Asked Questions
How do I schedule my 1-on-1 Expert Coaching Hot Seat?
Upon purchasing coaching, you'll be able to schedule your session with your coach's calendar.
Can I purchase coaching more than once?
Absolutely! If you find yourself in need of coaching more than once, simply purchase the coaching again.
Can I get a refund if I'm unhappy with my purchase?
As stated in Teachable's Terms of Use, Coaching IS NOT covered by Teachable's 30-day student refund policy.
Please review our Terms of Use and Privacy Policy below.